John Kaizan Neptune

---


Profile
---
John Kaizan Neptune is widely acknowledged to be among the top masters of the shakuhachi, or Japanese bamboo flute. Well-known in Japan, this California native is also an accomplished jazz artist and composer who has gained respect in both the East and West for his versatile and technically sophisticated melting pot of sounds.
---
Neptune was born in Oakland, California, on November 13, 1951 and moved with his family to San Diego, California when he was two. He played trumpet in high school and later was a drummer in a rock band. For college he chose the University of Hawaii, basically for surfing, but also began to study ethnomusicology. "I was interested in learning the Indian tabla," recalls John, "but at that time in Hawaii there was no one to teach me. My number two choice was the shakuhachi. I was really fascinated because on the high notes it sounds like a flute and on the lower ones it sound husky, almost like a saxophone. And when I found out it was a five-holed flute made from a piece of bamboo-- I was hooked!" He began playing in Hawaii with a Japanese Buddhist priest in 1971.
Later in 1973 John move to Kyoto, Japan, to continue shakuhachi study for one year, but then returned to Honolulu to complete a degree in ethnomusicology. After graduation John traveled again to Kyoto and in March 1977 after several years of intense study he received the "shi-han", or master's certificate in the Tozan School of Shakuhachi. At that time he was awarded the honorary name "Kaizan" which means Sea Mountain.
Since then, John Kaizan Neptune has made a mark in contemporary music as an artist of exploration and expansion. His adaptation of the shakuhachi to various worldwide musical settings has been his forte since the beginning of his career. Looking back, his first major highlight was his third record release, Bamboo. It was awarded Outstanding Album of the Year for 1980 by the Cultural Affairs Agency of the Japanese Ministry of Education-- the first time ever a jazz album or foreign artist has been so honored!!
All throughout the 1980's Neptune toured and released albums that utilized the shakuhachi with various instrumentation. His most notable recording during the early years were Mixed Bag and West Of Somewhere, both of which leaned again toward a jazz-based rhythm section. These albums featured such outstanding American musicians as Don Grusin, Robben Ford, Nathan East, Abraham Laboriel, Alex Acuna, Kenny Kirland, Buster Williams, Cornell Dupree, and others.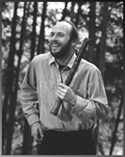 After an early flirtation with jazz fusion John started to record acoustic albums using ideas from different musical cultures but with Western and Japanese influences as a constant factor. The bamboo master's 1992 project, entitled Kite, featured German musicians George Lawall on classical guitar and the Modern string Quartet. The CD was recorded in a church in Oberiennignen, Germany, and was highly acclaimed in both Billboard and Swing Journal magazines.
Neptune continues to step out beyond traditional Japanese music and takes the shakuhachi to places yet unexplored, and to settings unimaginable. River Rhythm, found him journeying to Madras, India, where he teamed up with Indian instruments and players to create some truly exotic sound colors. "I have know for years the shakuhachi timbre would work well in an Indian setting. It was only a matter of time before an album like this would finally take place," comments John. "You might say the whole project has a heavy air of Madras magic to it."
And magic indeed! the album's title cut draws heavily on a long flowing melodic line, a traditional characteristic of shakuhachi, and is backed up by the smooth backbeat of Malaysian drummer-cohort Lewis Pragasam. Each track has its own individual twist to offer featuring such instruments as a twangy jew's harp, a Nivanic string harp, tuned water cups, and more. Neptune's River Rhythm takes listeners on a musical journey to India laced with World music rhythms, blues, New Age, and jazz.
After exploring new ground for the past 15 years, John went back to his "traditional Japanese roots" with Prime Numbers. Although the project features traditional Japanese instruments, the melodies and harmonies have a strikingly non-traditional flavor to them. "It was my intent," reports John, "to feature traditional instruments in ways that are not typically traditional." The instruments used for the recording, the 5-holed shakuhachi, the 3-stringed shamisen, the 13-stringed koto, and the 17-stringed bass koto, just to happen to all contain prime numbers!
To date, John has performed live and has toured North America, Europe, Australia, and Asia. When he is not recording or performing he his spending time making shakuhachi and other bamboo instruments in his home-workshop in the Japanese countryside.
尺八演奏家 ジョン・海山・ネプチューン John Kaizan Neptune
---