John Kaizan Neptune
Recordings

---

Shakuhachi
Mellow
Jazz
Jazz standards played on long shakuhachi - 2.4', 2.9' and 3.2'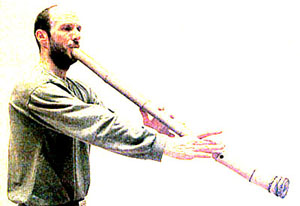 With such imaginative titles as "Words Can't Go There," "Kite" and "Dance for the One in Six" among his numerous albums (or CDs, it you will), John's choice of the relatively straight-forward name for this one might surprise his many tans. But there's method in his mundane choice. "Now record dealers will be happy, knowing what category to tile this one in," he says. "The word 'jazz' is right there in the title"
Part of the contusion as to "where to tile" John's music in the past has been caused by his refusal to put specific labels on it. Inevitably, the marvelous production that featured his recent "TakéDaké" (all-bamboo) band has been arbitrarily labeled "World Music" or some such, likely to end up in the back bins of the record stores. Similar fates were endured by the titles we mentioned above, by his earlier "Shogun,"" Bamboo," etc., and even by one of my personal favorites, "Jazzen."
Happily, listeners who appreciate tine music have long since discovered that "Kaizan" delivers it in a category all his own. By the way, it this is your first experience hearing John play, check out his previous albums as well - all are listed on his Web site at http://www.pacificsites.com/-jneptune.
Still, although it has been a consistent ingredient in nearly all of his recorded work over the last two decades, we're happy that jazz is unmistakably the vehicle throughout this time - whether you're hearing John's gently swinging opener "Blue Bamboo," his superbly soulful treatments of "Georgia on My Mind," and "Amazing Grace," or his ethereal solo on the closer, Harold Arlen's "Over the Rainbow," John's improvisation on the latter, and the interplay he and guitarist Takao Naoi explore on Gershwin's timeless "Summertime," are magnificent.
"Mellow" is another happy word choice here, describing not only the tasty, laid-back setting provided by Naoi and the others, but also the soft, rich sound John achieves with his "primitive" bamboo flute. This feeling is intensified because John uses the longer, darker-toned shakuhachi. The effect might be compared to that of a deep oboe or bassoon - although you'd never hear a "korokoro" technique used on those instruments. (For an example of that technique, listen closely to "Willow Weep for Me.")
So, all in all, I think John's choice of the title was a happy one, and as the late Harry "Sweets" Edison always said, "Jazz is supposed to make you happy." John's unique shakuhachi jazz certainly will do that, and mellow you out, tool
Malcolm B.Davis
Mr. Davis, a former Far East Publishing Director for Billboard magazine, is the author of the multimedia jazz-history CD-ROM, "Jazz Connections."
---
Compositions
Blue Bamboo
In A Sentimental Mood
Manha de Carnival
AmazIng Grace
Don"t Get Around Much Anymore
Safe And Sound
Georgia On My Mind
SummertIme
Willow Weep For Me
Tenderly
Shadow Of Your Smile
Autumn Leaves
Skylark -
Slow Boat
Recorded at Kimitsu Cultural Hall, Chiba-ken, Japan, May 27-28, 1999
Cover Art by Kal Neptune
Inside Wootbiock Priot by David Takeo Neptune
---
Musicians
John Kaizan Neptune - shakuhachi
Takac NaoI guitar
Toru Kase - bass
Mark DoRose ­ drums
---
How to Order This Recording
---